Electric car wash blowers are the perfect finishing touch for a commercial car wash. They gently displace and evaporate rinse water from your customers' vehicles, leaving them with a clean and dry car they'll be proud of. Whether you're using blowers as your final step or you've chosen to invest in final drying attendants for a more exclusive feel, a blower helps finish out the wash in style while keeping vehicles moving through your bay seamlessly with less waiting. We carry a wide range of blowers for car wash systems of all sizes, from standard commercial washes to larger transit systems. Add a final tailored touch to your system with an efficient car wash blower.
Attaches to most blowers
Works with small compressor (eight gates req. 0.256 CFM)
Structural Aluminum 75% Recycled
Easy installation; bolt on design
Reduces power consumption on idle by half
AIR-10-D Blower Producer- Driver Side, 10 HP.
Standard Drivers Side. Blue Impeller/ Left Hand Discharge.
Counter Clockwise Rotation when viewed from Intake.
Electrical Controls Not Included.
AIR-10-P Blower Producer- Passenger Side, 10 HP;
Standard Passenger Side. Yellow Impeller/ Right Hand Discharge.
Clockwise Rotation when viewed From Intake.
Electrical Controls Not Included.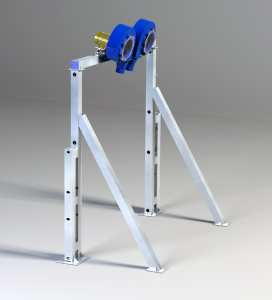 AIR-10-T Transit Two 10 HP Touch Free Top Blowers.
BD-3000 Industrial Standard Blower Frame, STRAIGHT. System includes:
Dual frame 6″x 6″ aluminium structure.
Powder coating (Optional).
BDH-5000 Industrial Heavy Duty Blower A-Frame, SLANTED. System includes:
Ladderized A-frame 6″x 6″ aluminum structure.
Powder coating (Optional).
ECS-AF-B Blower Base Control Panel. System includes:
Complete UL Approved control panel with main disconnect switch and selector switch.
Smart relay for staggered start of motor starters.
Non-metallic enclosure.
Two separate computer signals are required if top and side blowers are to operate independently.
Additional Motor Control Add-On for Base Panel:
ECS-AF-10-1: 208V, 230V, 460V @ 3-phase.
ECS-AF-10-2: 460V @ 3-phase.
TAWF Transit Air Wiper Blower System (Side Blower Unit). System includes:
Two 7-1/2 HP motors.
Two frames with 5 side bags each.
UL Approved control panel.
When designing a vehicle wash system, the primary focus is on sprayers and soap applicators to make sure vehicles are free of grime. If you want to offer customers a complete service, there is another piece that is just as vital. Professional operators know that no system is complete without car wash blowers, and N/S Wash has an inventory of blowers to fit operations of all sizes.
Blowers with an Even Dry
Water left on vehicles driving down the road creates streaks and can be just as bad to a car's appearance as dirt. That is why it is important to add car wash blowers to your system so that vehicles can hit the road in great condition.
If you have a smaller operation, we have single unit blowers designed to take up minimal space while giving vehicles a close dry. Our inventory of car wash blowers also includes frames that can hit all sides of a vehicle at once for an even dry. Finally, N/S Wash has a selection of multi blower industrial systems to give the final touch to larger vehicles and leave them sparkling.
No matter which kind of blower system you are looking for, make sure your operation doesn't run without this vital piece of equipment!