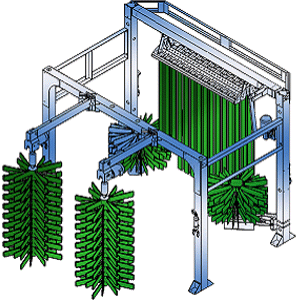 ECO-5 Front-to-Rear Fleet is a five-brush system that's dominating the industry with its multiple innovations. From the super soft polishing action to the aluminum construction, super-flex couplings, and single hung wrap-around brushes, its wash goes unmatched. With a wealth of great features, the ECO-5 water reclamation system for car wash is simply the best.
If you need a top notch water reclamation system for car wash, N/S Corporation has you covered with the industry-ruling ECO-5 Front/Rear. Its impressive features are exciting enough, but with our service maintenance plan, you can rest assured that your brush system will provide great results years down the road. Rent an ECO-5 Front/Rear from N/S Corporation today.
Single manifold aluminum pre-soak arch (4″ x 4″ square tubing)

Air hose activation system

1 pair of flex wrap-around brushes with 2 electric motor assemblies, ½ HP each

1 oscillating Front-to-Rear mitter curtain brush with a 1 HP electric motor assembly

One pair of rocker panel brushes with two ½ HP motor assemblies

PVC piping with nozzles, DEMA & solenoid valve

1 motor control panel (UL approved) – mounted on frame

Driver side utility connection

Complete with 27 ½ feet of curb rail

DIA-100 final rinse arch with electric activation

Polished aluminum framework with a clearance of 96″
Height: 11'
Width: 14.5′
Length: 12.7′
Vehicle Clearance: 96″
System Utility Requirements:
Voltage: 208/230/480 – 60 Hz
Single Point for electrical, air and chemical connections.
Air drying systems
Vacuum systems
Wheel wash systems
Water recycling systems
Electric eye activation
Reverse osmosis
Water recycling systems
Auto start and more
Contact Us for Pricing Information
NS Wash – Fleet Systems 1-877-NSWASH-1