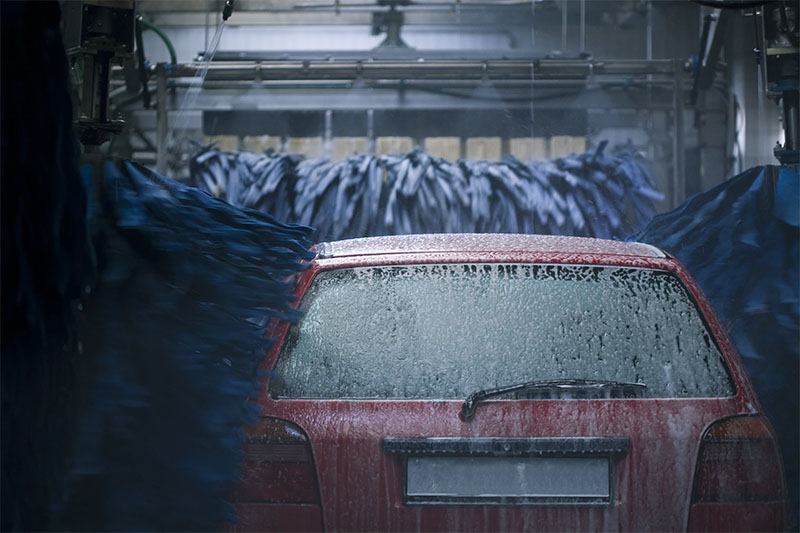 Are your fiber brushes too soft for your liking or nearing the end of their useful life? NS Wash is here to help! Based on customer input, we have developed a new foam brush car wash offering: the Eco Foam car wash brush system.
At NS Wash, we specialize in delivering state-of-the-art, easy-to-use products for your car wash facilities. Eco Foam is an alternative to—not a replacement for—our highly popular Lammscloth synthetic fiber foam cleaning brushes, which are some of the softest in the industry due to their flared ends. This is gentler on a car's finish and is highly desirable in many cases due to its "hand-washed" effect, but it wears out sooner and doesn't give as vigorous a cleaning.
The Eco car wash foaming brush system gives you a more vigorous cleaning option. Read on to learn more about how easy they are to install on your existing NS Wash automatic car wash module!
Eco Foam Brushes and Pelts
We are happy to introduce our new Eco Foam Brushes and Pelts, perfect for your bus or train transit, government or commercial vehicle fleet, or retail car wash foam brush system. With this new, versatile foam brush, car washes have a new option to better serve diverse customer needs.
With Eco Foam, you will be able to extend the life of your brushes in your facilities while improving results for your customers' vehicles. The Eco Foam system is equipped with very thin strands that are designed to get into any crevice smoothly and easily. The material has a closed-cell design, so it will not absorb any water, dirt, or debris from wash to wash. Another feature we offer is the black pelts that were created for the bottom of the brush area, which accrues the most grime.
In a nutshell, Eco Foam is a highly durable, effective train, bus, and car wash foam brush system.
The Perfect Fit!
If your fiber brushes are worn and have lost too much of their brush volume (e.g., 40% or more), you may be ready to try something different. Switching to Eco cleaning foam brushes and pelts for the ideal train, bus, and car wash system in at least one of your washing modules will allow you to try out the technology and see how well it meets your customers' needs.
Fully Compatible with Existing Systems
Compatibility is a key feature of the Eco Foam brush. Car wash operators often hate upgrades because the new gear isn't necessarily compatible with the old systems, but we made sure that this isn't an issue:
We've specially designed our brushes to ensure a direct fit into your wash system's existing 15:1 gearbox, so there's no need for you to replace them. The Eco Foam car wash brushes can be switched out with your existing brushes with no extra steps than if you were replacing brushes of the same type.
How to Install Your Car Wash Foam Brush System
To replace the top brush, rocker brush panels, and wrap-around brushes, you simply need to drop the old brush down from its mounting and install the Eco Foam brush like you normally would your old brush. In some cases, that's as simple as undoing a single bolt. What's even easier is that there is no driver or passenger side asymmetry on the rocker brush panels and wrap brushes; they can go on either side of the vehicle. Simplicity is the name of the game with our Eco Foam brush car wash system.
It's easier to replace the entire cleaning foam brushes, but we also provide kits to replace individual pelts if desired. Each pelt was made to fit into traditional fiber pelt bearings, so with just the use of a drill, you won't skip a beat. We provide the necessary hardware and a configuration diagram to assist you with the installation.
Designed for Your System
Our Eco Foam car wash foaming brush system is designed with you in mind. If you are in the market for a strong, durable, eco-friendly alternative to your existing brushes, give our new foam brush car wash a whirl!
For more information about Eco Foam brushes and pelts, reach out to us today!