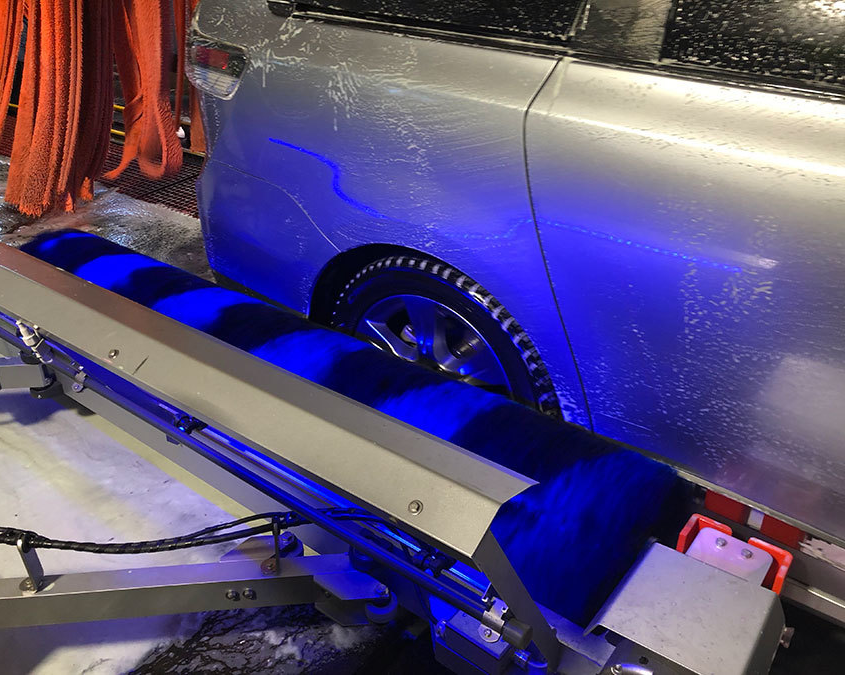 The Wheelix Brush, as the name implies, is a wash system wheel brush with a special twist. The new multi-diameter HELIX brush design gives this wheel brush unparalleled reach for deep cleaning the most stubborn dirt in your customers' wheels and hubcaps. If you've been looking for a way to give your car wash customers that extra special touch, this is one car wheel brush system you'll want to check out!
Powered by twin ½-horsepower motors, and featuring our quality feather-tipped brushes and pneumatic rush penetration for smooth and continuous coverage, this wheel brush system is a model of efficiency. It's power and water needs are low, while the cleaning results provided by the new multi-diameter HELIX system will add that perfect "finishing touch" to your customer's final clean.
Among its other revolutionary features, our new Wheelix car wheel brush includes features, such as:
Strength to last but soft enough to contour wheels and tires for a deep clean.
Pneumatically-controlled, deep clean feather tipped brushes.
Onboard poly-tube bulkhead for ease of installation.
1⁄2 HP electric drive motor tirrings producing 116 RPM and a powerful deep clean.
Ten individual brush pelts for ease of maintenance.
UHMW low mounted lead-in entrance yokes to minimize brush wear and safe vehicle contact.
Powder-coated Heavy-duty Aluminum frame construction for rust-free operation.
Four-spray check-valve nozzle manifold for maximum lubrication.
Optional single or multi-colored LED curtain lights for the ultimate "wow" factor.
Additionally, the Wheelix wheel brush system is easy-to-install. Its onboard poly-tube bulkhead allows for easy installation into a new or current system, while the ten individual brush pelts keep maintenance easy and stress-free. Our entrance yokes are expressly designed to minimize wear and tear, meaning our Wheelix wheel brush will be providing that immaculate finish for you and your customers for a long time to come.
At NS Wash, we dedicate ourselves to creating efficient, long-lasting wash equipment for our customers. However, that doesn't mean we don't understand the value (and fun) of a little "wow factor." You can also order single or multi-color LEDs on your Wheelix wheel brush system, a feature that's sure to make your customers' car wash experience a memorable one.
If you're in need of reliable retail, fleet, or transit wash equipment and systems, NS Wash is here to help. We've worked hard to earn our leading position in the wash system industry, and turning out years of experience into wins for our customers has remained our goal from the beginning. Visit our Support Page to learn more or reach out today to learn more about what the Wheelix car wheel brush can do for your business.