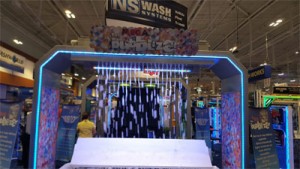 N/S Corporation has made a habit of staying ahead of the competition by pioneering new innovations for all wash systems. Our newest addition to the wash equipment selection is the Mega Bubblizer. In this new and improved bubble arch, N/S Corporation has created a more efficient way to disperse chemicals over the body of any vehicle in the car wash.
Why Bubbles Are Different
Similar to a close shave, the cleansing foam needs to be applied or circulated with friction to properly clean a vehicle. Bubbles, on the other hand, flow over the surface of the vehicle and offer better coverage and a more thorough dispersion of the soap. Use a bubblizer to apply soap, wax, or glass treatments. The bubblizer can even be customized with a light and bubble show! There's no better way to give customers a unique car wash experience and instill them with confidence.
Features and Function
In addition to a light show, the bubblizer has many useful features. It improves the chemical efficiency of soap and wax, can be mounted to a 4"x4" square anchor, a 6"x6" square bulkhead, or a 4" round arch, and creates a wow factor for customer enjoyment.
How Bubbles Changed the Industry
Bubbles took the industry by storm when they were introduced into wash systems. Car wash proprietors were able to make a small investment to achieve very high returns. N/S Corporation has taken that revolutionary innovation and pushed the evolution of the Bubblizer forward. The Mega Bubblizer offers better graphics, a dazzling light show, and an even more effective way to drop bubbles onto the surface of a car.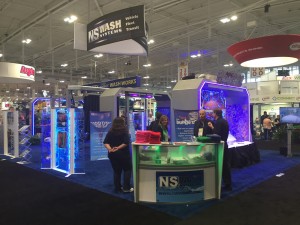 See N/S Corporation in Action
N/S Corporation's Bubblizer offers a revolutionary way to deliver chemicals and is a great investment for every tunnel owner. The N/S Corporation Bubblizer is distinguished from the competition because we value simplicity over complexity. The Bubblizer lets the bubbles do all the work on the vehicle. Discover the benefits of using a Bubblizer to dispense chemicals, instead of foamers.
Visit us in Nashville at the ICA Show in Booth #3904, where we will show the Mega Bubblizer in action. We are running a show-exclusive special on the Bubblizer. The frame, graphics, multi-color lights, chemical board, and powder coating are all available for $7,600 as part of the Bubblizer package.
Themed Carwashes
The car wash doesn't have to be a dull experience. Customers can experience a fabulous car wash light show with the N/S Corporation Mega Bubblizer. With the Bubblizer, offer your customers an entertaining and enjoyable experience whenever they need to get their cars cleaned. Imagine creating a volcano themed car wash or a galaxy inspired light show. Create a custom themed car wash with the Mega Bubblizer.