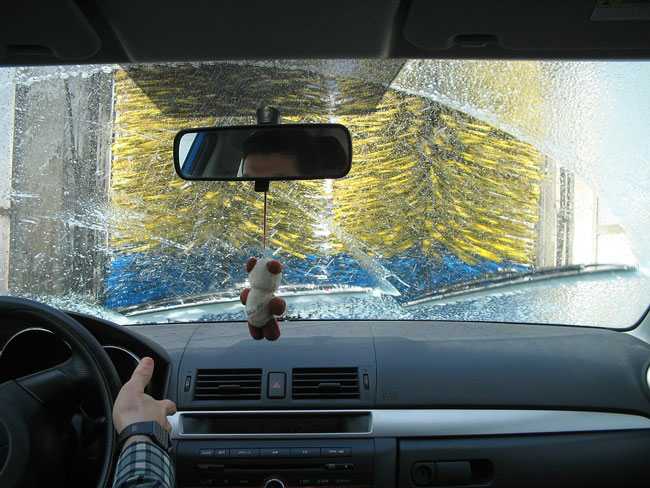 Professional Car Wash Equipment
Everyone wants their vehicle to look sparkling and new. When it's time to get rid of road grime that dulls a car's paint job and wheels, some people bring out a hose and a bucket, but most would rather not handle the job themselves. They prefer to have the work done by advanced professional car wash equipment. Below are eight reasons why many consumers would rather roll through your car wash instead of performing a weekend DIY wash job in their driveway.
1. Professional Washes Offer Thorough Cleaning
Perhaps the biggest advantage of utilizing professional car wash equipment is that it truly performs thorough cleaning. When vehicle owners manually wash a car, it can result in areas of the vehicle being unwashed. Usually, a DIY wash focuses primarily on the top and sides of a vehicle, but a top-notch, professional car wash delivers a more thorough approach.
The car wash can clean a vehicle's undercarriage to eliminate salt and other road chemicals that collect during cold weather. If left unwashed, these chemicals can cause significant metal corrosion. This is why car wash equipment manufacturers have designed equipment to wash the underside of vehicles, ensuring that even the trickiest to reach spots are taken care of.
2. Consumers Consistently Get Quality Results
Another reason consumers prefer professional car washes is consistent wash results. Unlike manually washing a vehicle, the best professional car wash equipment cleans vehicles the same way, every time. When consumers use a facility, they don't need to worry about getting great results on one occasion, and then mediocre results the next time around. They can be confident that their vehicle will be thoroughly cleaned every time they visit your facility.
3. Many Wash Facilities Strive to be Eco-Friendly
The push to be "greener" and more "eco-friendly" are drive many consumer purchases. Washing a vehicle at home involves soaps and chemicals that could harm the environment, especially as the waste water from the wash job flows into storm drains and onto lawns during rinsing.
Car wash equipment manufacturers can combat these issues by implementing more environmentally friendly wash technologies. Many professional facilities have water recycling and chemical waste disposal systems that help them shrink their environmental footprint. These technologies simply aren't available when consumers wash manually on residential property.
4. Vehicles are Left Free of Exterior Damage
Washing a vehicle at home might seem like a reliable way to avoid vehicle damage, but many consumers learn that they can actually damage their car's appearance if they aren't careful. Brushes, sponges, and other common tools used for hand washing can scratch vehicles, as small particles from accretions become trapped and pressed against a vehicle's exterior. A properly constructed car wash uses equipment that will not damage any part of the vehicle.
5. Saves Lots of Time on the Washing Job
Between work and other commitments, many people don't have much down time. Consumers often choose to wash their car with professional car wash equipment simply because it's faster than a DIY job. Why waste a Saturday afternoon manually washing your vehicle, when you can go to a car wash and have the hard work done for you in minutes?
Considering how much time can go into prepping, cleaning, and rinsing when performing manual car washing, the expedience of a professional wash simply cannot be matched.
6. Convenient Washing While on the Go
Most vehicles don't become badly soiled when they sit in a driveway. It's the road conditions and terrain they experience during driving that causes them to collect layers of debris. Using professional facilities, drivers can easily clean a vehicle while on the go. If their vehicles get dirty due to weather or the terrain they travel, consumers don't have to set aside time for manual washing. They can simply roll through your wash and have their vehicle clean for the next day.
7. Modern, Cost-Effective Technology
Top car wash equipment manufacturers are constantly engineering new, more modernized technologies for wash facilities. Some of the new hardware helps facilities become more cost-effective than washing a vehicle at home. Thanks to new generation professional car wash equipment that is offered at top-of-the-line wash facilities, there is no need for customers to purchase wash resources for cleaning vehicle areas that traditional wash technology did not.
8. Additional Services May be Offered
When someone washes their vehicle in their driveway, the wash job is the extent of the wash experience. But many professional facilities decide to offer more than just exterior cleaning. In addition to vehicle washing, some commercial car washes offer value-added services such as interior detailing for vehicles, vehicle maintenance products, and commonly purchased consumer products such as snacks, drinks, and other convenience store items.
This makes going to a car wash an experience consumers can't get elsewhere. In addition to having their vehicle cleaned inside and out, they can pick up items they would otherwise purchase at a gas station or grocery store, creating a one-stop service experience like no other.
Conclusion
Professional car wash equipment has come a long way in recent years. In addition to the offering of new services, advancements in technology help explain why many consumers strongly prefer to use professional facilities instead of washing their vehicle at home.
By partnering with a proven car wash equipment manufacturer like N/S Corporation, your facility can offer high-quality, eco-friendly solutions for cleaning vehicles that not only save consumers time and money, but also provide consistent wash results with no damage or grime left behind. If your car wash is in the market for new, better equipment, explore our range of solutions today.