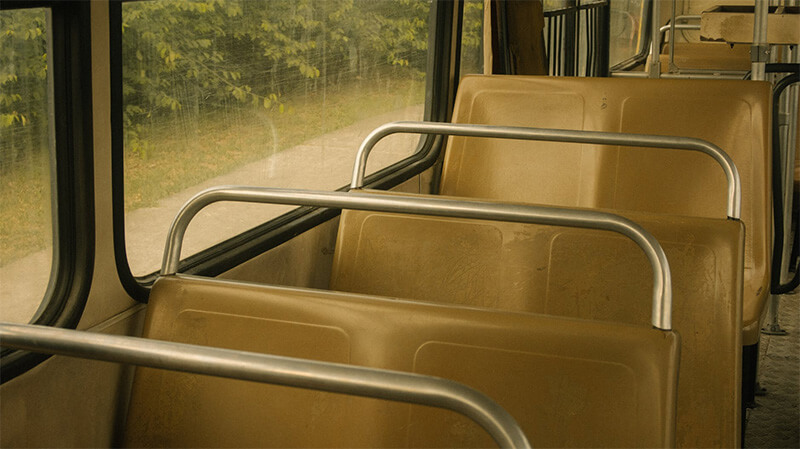 What are today's best practices for keeping your school bus cleaner? What kinds of school bus wash equipment should you use? Need to know how to clean bus floors and other interior surfaces?
Driving kids to school day in and day out can sometimes be entertaining, but many times challenging. You've got to drive in all weather and keep the kids safe in all kinds of traffic while keeping the peace on the inside!
Despite the challenges of the job, you take pride in your bus and you want to keep your bus in A+ condition. After all, your bus represents your school and your town! So, how do you keep your vehicle clean throughout the year? And what kind of bus cleaners and bus wash methods can you use at the end of the school year for a top-to-tail wash?
In this blog, we'll go through daily, monthly, and annual wash schedules, as well as school bus wash techniques you'll need to get the job done, what cleaners to use, when you should clean, how to clean bus floors, and much more.
The Daily Sweep
To keep your bus cleaner, at the end of each run or the end of the day, walk through your bus with a bag and pick up all the loose trash. You can minimize the amount of trash left on the bus by strictly enforcing the "no eating or drinking on the bus" rule—this is the law in many states and it's there to protect the students' and your safety.
Once the large pieces have been collected, go through with a broom and sweep out the aisle and under the seats. A hand brush is a useful piece of school bus wash equipment for getting into difficult-to-reach corners and under the seats with the new-style curved legs.
This is all you really need to do on a daily basis unless you notice some new graffiti and want to remove it before the next day.
The Monthly Clean
This is a deeper cleaning that keeps your bus cleaner overall and makes the annual clean so much easier. For the monthly wash, you will need bus wash equipment, including:
Rubber gloves

Trash bag

Wooden paint-stirring stick

Razor blade

Broom

Dustpan

Mop

Hose

Sponge or

Lammscloth hand mittens

Brush (for the wheels)

Bucket of water (cold or warm)

Car wash detergent or commercial

bus cleaner

Window cleaning solution

Antibacterial solution (such as bleach)

Surface cleaner for seats

Goo remover for sticky spots

Tire treatment if desired

Paper towel or newspaper

Damp cloth

Ladder if washing the exterior by hand
You may find that some brands of bus wash equipment work better for you than others and this will take some trial and error. Here, we'll use generic product descriptions.
A Step-by-Step Guide
After your regular pick-up and sweep, these are the areas that will need attention in your monthly wash to keep your bus cleaner and more kid-friendly. We recommend wearing rubber gloves as part of your school bus wash equipment to avoid damaging your skin. It's also a good idea to keep the bus windows open to air it out while you clean the inside.
Trash Between the Seat and the Bus Wall
Even though students aren't supposed to eat or drink on the bus, packets, tissues, and the like often get stuffed in between the seat and the wall. This is easy to remove with a good old-fashioned wooden paint-stirring stick. Once removed, you can either place it in your trash bag by hand or drop it on the floor to be collected when you sweep.
Chewing Gum
Chewing gum poses more of a problem to remove with regular bus wash equipment because it's just plain sticky! You can get chewing gum off the walls, seats, and floor with a razor blade and follow up with a goo remover if any residue is left behind.
Seats
Wipe the seat, back, and sides with a surface bus cleaner and/or general surface antibacterial solution mixed with water to remove the grime and kill the hundreds of germs that students bring on and off the bus each day. Leave this on while you clean the interior windows and then wipe it off with a paper towel or a fluff-free rag.
Avoid any sort of harsh school bus wash treatments that will ruin the seats or interior of your bus.
Mildew
In the more humid south, mildew can become a real problem and poses a health hazard for passengers. To get your bus cleaner in these environments, wipe out your bus with hot water and bleach to kill any mildew, and make sure you keep your bus windows open until it is completely dry.
Driver's Cockpit
The driver's cockpit tends to become coated in dust from the constant opening and closing of the door and dust blowing in from outside. To get your bus cleaner, use a vacuum, then wipe over the dashboard and instrument panel, seat, and gear stick with a damp cloth and antibacterial solution and/or a surface cleaner.
Walls, Ceiling, and Roof Hatches
Using the same solution, wipe over the walls, ceiling, roof hatches, and window ledges—spot-cleaning with a goo remover as necessary. Be careful of cameras and DVD players if using a spray bottle as part of your school bus wash equipment to clean the ceiling.
Writing on the Walls and Seats
It would be lovely if our dear passengers respected our buses as much as we do, but if someone has gotten up to mischief with a pen (or MARKER!) on the walls or seats, there is usually a way to remove it. First, try rubbing alcohol or a strong hand cleaner designed for mechanic technicians. Leave it for a few minutes and then rub it off. If that doesn't work, you could use more powerful bus cleaner chemicals such as goo remover, oil-free makeup remover, or nail polish remover. All of these products should be safe for vinyl seats. Simply clean off any residue afterward.
How to Clean Bus Floors & Aisles
After cleaning all of the interior surfaces and windows, clean the aisle and floor. If you're wondering how to clean bus floors most efficiently, you're lucky if you have an older bus: Old buses can be hosed out completely, making this step quick and easy.
New buses with plywood floors cannot be hosed down, or else the floor could be damaged. Newer floors can be mopped with bus floor cleaner and water, followed by a clear liquid floor wax.
When it comes to the best practices for how to clean bus floors, the last step is the most important: Air out your bus completely. Put many if not all of the windows down, leave the door open, and run a couple of fans. Once the floor is completely dry, you can close up the bus nice and tight.
Vehicle Exterior
Now, it's time to clean the outside. To get your bus cleaner without taking forever, hose your bus down first to remove loose dirt. Then, use a sponge or our lovely soft Lammscloth hand mittens to soap up the sides and roof. You will need to use a ladder or movable stairs (as safely as possible) to reach the roof. (We highly recommend adding movable stairs to your school bus wash equipment, if you don't have a raised platform.)
As for the particular chemicals and bus cleaners you should use: Car detergent works much better than ordinary dish detergent. When you're done, hose the bus down again to rinse.
Highly motivated bus drivers might even like to finish by waxing their bus for that A+ finish!
Wheels and Tires
To wash the wheel wells and tires, use a brush and some soapy water. You can apply a tire treatment from a bus wash equipment store at the end to make the rubber shine.
Windows and Mirrors
Windows can be washed daily if you really want your bus to shine; otherwise, once a month is generally sufficient. This is something that will depend on the weather where you live and whether your route includes dusty, unmade roads. But there's no denying that frequent window-washing makes a bus cleaner-looking in appearance by far!
With your school bus wash equipment, spray your windows and mirrors with a window cleaner, leave for the amount of time recommended on the bottle, and then dry with a paper towel or newspaper. Rags tend to cover the windows in fluff, but if you have a fluff-less rag, this is also a good option.
Exterior window cleaning is generally the last step in the bus wash process to avoid making them dirty again.
Don't forget to clean the window interiors as well: Kids smudge them constantly with their hands and faces.
At the End of the School Year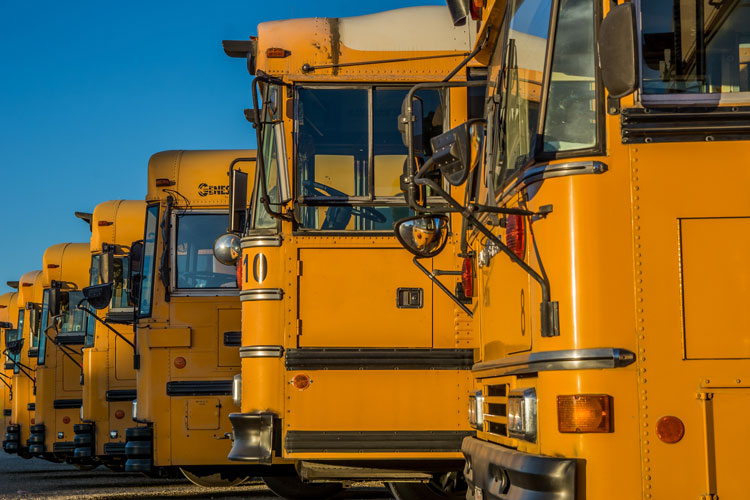 Keeping your bus cleaner during the school year is vital, but it's just as vital to do a thorough cleaning before going into the off-season. Before heading off for the summer, you will need to do a complete bus cleaning with specialty school bus wash equipment before parking your vehicle back at the depot. This is especially important if your bus is going to be turned in and replaced.
First, perform your monthly bus clean, paying great attention to detail. Then add the following two steps:
Take Down Flyers & Notices
Any notices you put up during the year will need to be taken down and the residue cleaned with goo remover or window fluid. These might include:
"Bus rules" signs

"No eating or drinking" signs

Timetables and schedules

Funny, cheery posters that you'd put up for fun

Anything else affixed to the windows and ceiling
Removing these materials annually will help keep your bus cleaner in appearance and discourage vandalism by the kids.
If you're wondering how to clean bus floors with papers or other matter stuck to them, the process is pretty similar, although the floors can potentially take a heavier-duty chemical bus cleaner if needed. Strong solvents such as acetone are great for dissolving caked-on glue and are also good for removing superficial scratches (where the bus surface isn't actually damaged, and the scratch comes from material deposited by whatever object came into contact with it). Don't use products like acetone on paint or plastics, or, if you must, wash them off very quickly afterward.
Remove Personal Belongings
Once you've taken everything down, search through the entire bus (and especially the driver's area) and remove all of your personal belongings. Put your things in a bag to take home and vacuum and wipe out all of the compartments. Now you're done and you've gotten your bus cleaner than ever before!
The Easiest Solution with NS Wash Technology
Looking for school bus wash equipment? At NS Wash, we are innovators who are constantly looking to develop more effective and lower maintenance bus cleaning solutions. Bus company owners might be interested in considering our transit systems for a quick and easy solution that keeps the entire fleet in tip-top shape!
We hope this has given you a good sense of best practices for getting your school bus cleaner. Now you have a better sense of how to clean bus floors, windows, aisles, and exteriors! Contact us to learn more about our bus and transit cleaning solutions and accessories.