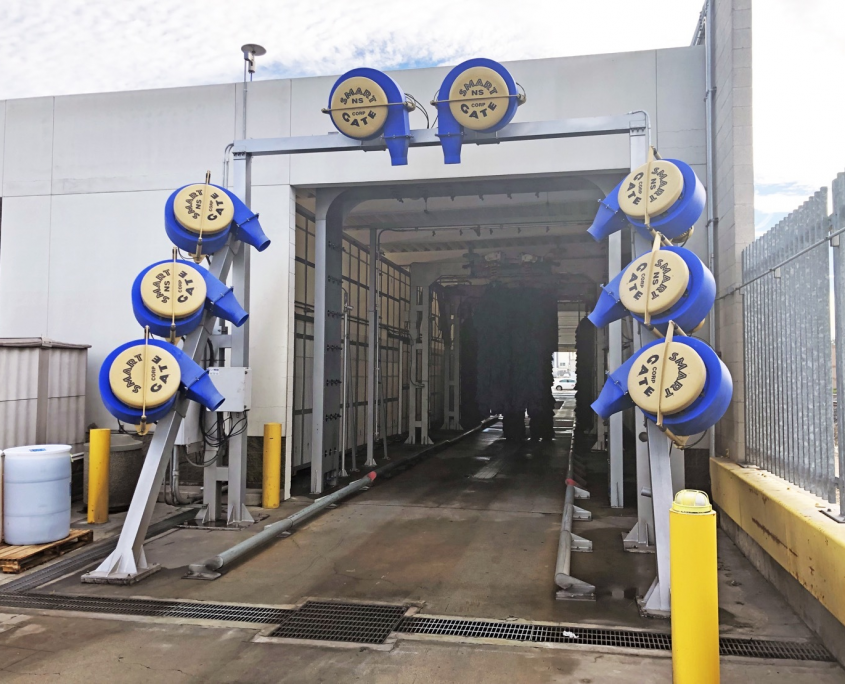 Upgrade your blower equipment with a new car wash gate. Car wash blower equipment is ubiquitous in the vehicle wash sector. From retail car washes to transit and fleet wash systems, "elephant ears" are everywhere. Still, your run-of-the-mill car wash blower is not without its flaws.
As many of the vehicle wash experts will attest, blowers are loud and temperamental. Many car wash blowers are plagued by laborious start-ups and stops that can quickly eat up the life of the motors. Additionally, most motors have a limit of around eight starts per hour, causing potential delays for your business, and your customers.
Innovative Car Wash Blowers: The Smart Solution
NS Wash's new Smart Gate attaches to your blowers and eliminates the need for inconvenient starts and stops. The pneumatically-operated car wash gate controls airflow into the impeller, increasing efficiency while reducing necessary operating power for each car wash blower. Put simply, the Smart Gate turns your system into smart car wash blower motors, letting you leave your blowers on while saving power for you. Smart Gate has been shown to reduce power consumption on idle by half, as well as reducing power spikes during start-up and noise pollution, all while prolonging motor life and saving power.
Some of the Smart Gate car wash features include:
Attachable to most system blowers
Works with small air compressors (eight Gate req. 0.256 CFM)
Made of 75% Recycled structural aluminum
Reduces power consumption on idle by half
Easy installation, bolt-on design
Proudly made in the USA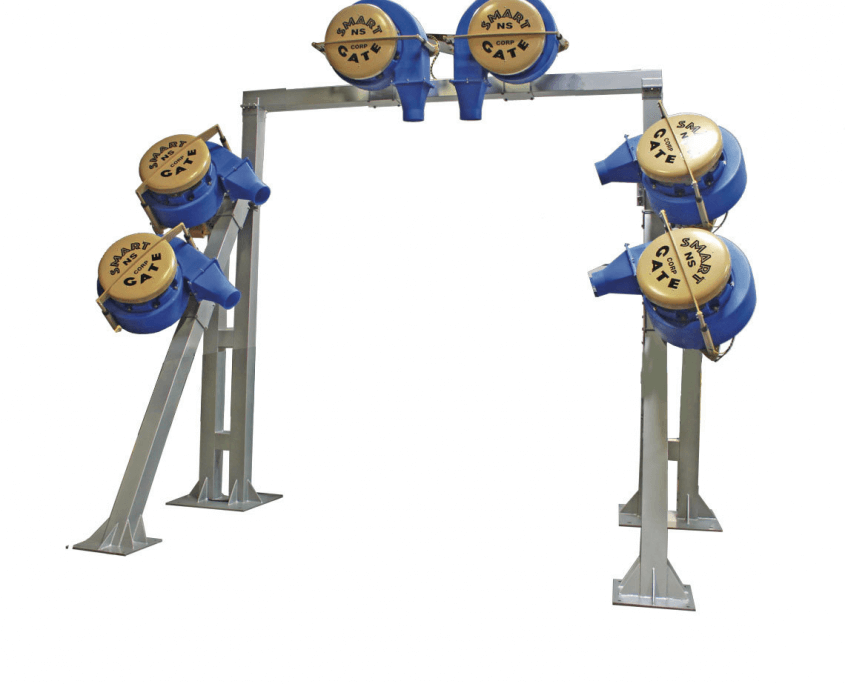 Easy Integration
We've seen how the Smart Gate saves you money while increasing your wash operation's efficiency, but high performance isn't the only measure of quality. Our Smart Gate attaches easily to your car wash blower equipment and is generally compatible with large and small compressors. This means that improving your car's blower system with a Smart Gate car wash system won't involve buying all new assets, such as frames, or even new blowers. The simple bolt-on design also eliminates installation costs and keeps maintenance convenient since you can easily remove a Smart Gate to clean it, and the car wash blower it regulates.
The Smart Gate works around a simple opening-and-closing feature. A closed Smart Gate reduces the electrical load on smart car blower motors by 50%, allowing bay managers to leave the blowers on for longer periods. This can be a huge time-saver for fleet and transit wash operations. Restarting a car wash blower presents a significant draw on power supplies and presents delays for a washing business that can mean the difference in customer satisfaction and wash quality. Not to mention, utility companies charge power per consumption based on the average "peak" usage of your business. Our gate car wash reduces the number of starts your system has to make above 200 amps, meaning the Smart Gate helps you pay less on power bills — and that's a win-win for both you and your customers.
The Smart Gate also significantly cuts down noise pollution. Our studies show that, even with the gate in the "open" position, the noise from each car wash blower was reduced by more than five decibels, compared to an un-gated blower. The closed position, of course, significantly improves noise pollution by around 10 decibels.
If you're interested in making your vehicle wash more efficient while saving time and money, a gate car wash that turns your equipment into smart car blower motors is an essential upgrade to your wash. Get in touch with us to talk with an expert about how to integrate Smart Gate into your vehicle wash. Make your wash bay more energy efficient and productive with an NS Corporation Smart Gate today.