A San Pedro Car Wash Installation
When N/S teams up with local cash wash, we love showcasing the amazing results we've created with our car wash installations. Recently, our team completed the installation of a car wash for a valued customer, Jerzy Boyz Car Wash, in San Pedro CA. Read on to learn what a team up like this one created!
The Breakdown
Jerzy Boys purchased a wide selection of N/S equipment to create an amazing wash experience for all their customers. Their car wash installation included:
What to Expect
As you are greeted at the entrance of the car wash, the Excalibur conveyor will gently take up your wheel and introduce you to Jerzy Boyz magnificent tunnel.
The Excalibur Conveyor
The Excalibur Conveyor was designed to solve car wash operators' dependence on compressed air to maintain chain tension, as well as issues with hard to reach multiple point lubrication spots and the countless hours replacing links and other components.
The Vortex Blast Arch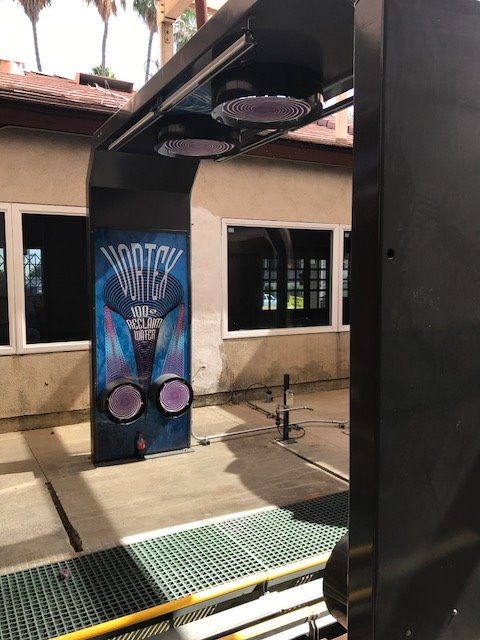 As the Excalibur glides your vehicle forward through this San Pedro car wash, you'll find the Vortex Blast Arch. This is one of N/S Corporation's prized new products. The Vortex Arch has six spinners with 4 jets each — two on each side and two on top, along with a 20 HP pump and the choice of a fun light package.
N/S firmly believes that applying a high pressure pump at the entrance of every tunnel properly prepares the car for polishing by blasting off road grime, dirt and in some cases salt film from coastal beach areas.
The Bubblizer
As your car progresses through this car wash, soap is dispensed from the Bubblizer. We've discovered over the past five years that dispensing bubbles is a cost effective and efficient way to spread chemicals over the exterior of a vehicle. It also enables car wash owners to create more top package options in a smaller space for more profits and a quick payback on the cost of a Bubblizer.
Lammscloth Pelts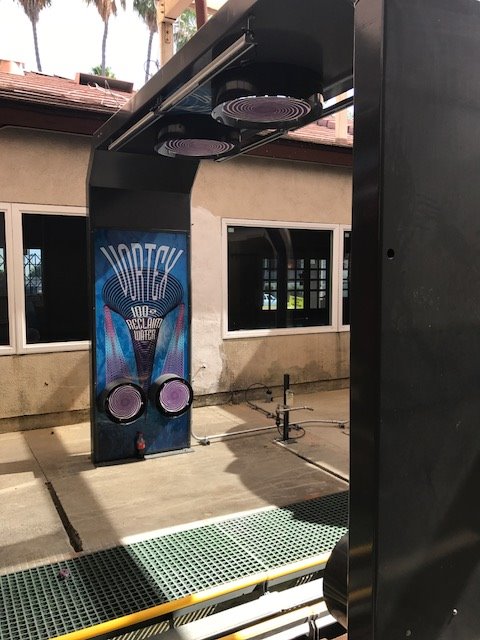 The robust Lammscloth Pelts are next up the car wash queue, and they offer superior polishing results along with a blast of color to liven up the tunnel. From the interior of your vehicle, you will see and hear, the benefits of Lammscloth massaging the exterior of your vehicle.
N/S offers red, black, blue, yellow, orange, lime, forest green and pink brushes for an easily customizable theme for your car wash. Jerzy Boys selected a combination of two Eco Brush stations for a total of eight brush elements, but NS offers various combinations of three, five, seven, and ten touch stations — each varying to fit your preferences and the length of the tunnel. See these various configurations here on our site.
Tire Gloss Applicator
Now right before the San Pedro car wash dryers kick in, chemical is gently massaged on the surface of your tires with NS Corporation's world class Tire Gloss Applicator. This is a great top package enhancement because the TGA is the only tire shiner on the market that uses Lammscloth pads to apply chemical evenly, minimizing runoff and the amount of chemical applied.
Choose the Jerzy Boyz San Pedro Car Wash
There is no question that Jerzy Boyz has packed their tunnel with the best equipment money can buy. If you live in the San Pedro area, please stop by the Jerzy Boyz Car Wash for a first class washing experience!
If you own a car wash, we hope this display will tempt you to visit N/S Corporation to explore our equipment selection and purchase a reliable car was system from the leader - N/S!